BDJ Holo Notebook
ACHIEVING CLARITY THROUGH WRITING!
Simplify your life using BDJ Holo Notebook

Bullet journaling is customizable to your needs and can be used for your meetings, ideas dump, checklist, budget list, and more.
It's great for those who aren't sure how to get on track with everything they have to do.

You can freely write your thoughts so that you can have a clearer mind each day.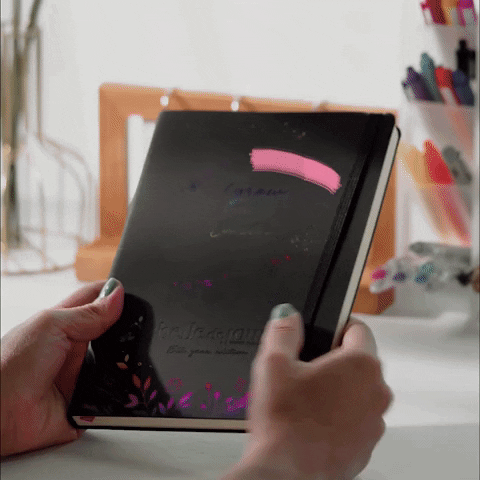 Increase your productivity

Bullet journaling is one of the most versatile ways to keep yourself organized and offer a helping hand to your mental health.
Learn to better manage your time
Keeping track of events, appointments and due dates will ensure you're always ahead of time and you'll be able to feel more confident and less stressed.

FEATURES: 


BULLET JOURNAL FRIENDLY: We've also improved the dot printing to make it even more bullet journal–friendly. Each page has 32 rows with 5mm dot spacing. Perfect for all your creative bujo ideas.


CUSTOMIZABLE: You can choose to have your name or any 10 Character words on the front cover.


FSC CREAM PAPER: As part of saving the environment, we are using Forest Stewardship Certified paper.


HIGH-QUALITY: The inside pages contain top-quality, ivory-colored paper. It can be used as a travel journal, planner, or notebook for personal reflection.


FREE COACHING CONTENT: Get amazing monthly freebies in our Graphy BDJ Studio! Get monthly wallpapers, coaching videos, and VR meditation videos!
SPECIFICATIONS:


14.3x20cm​
100gsm​
Round corner​
80sheets (160pages)​
For full specifications, you can check the SPECIFICATION TAB


PACKAGE INCLUDES:


CUSTOMIZATION IS NOT VALID FOR COD. COD ORDERS WITH CUSTOMIZATION WILL AUTOMATICALLY BE CANCELLED.

Let customers speak for us