Dare To Be Cards
DO YOU NEED A BURST OF INSPIRATION? DO YOU NEED HELP IN SELF-REFLECTION?


Then this might be the next thing you need to add in a bit of hope in your everyday life. For just an affordable price you can get a daily dose of inspiration, and peace to get you through a rough day. The Dare to Be collection is a series of card decks meant to inspire you and help you reflect on your goals and aspirations.



Beautifully designed, each themed deck contains motivational quotes, "I am" affirmations, and prompts for journaling, goal-setting, or self-reflection.
Get your daily dose of encouragement and inspiration with the Dare to Be Grateful, Dare to Be Courageous, and Dare to Be Creative card decks.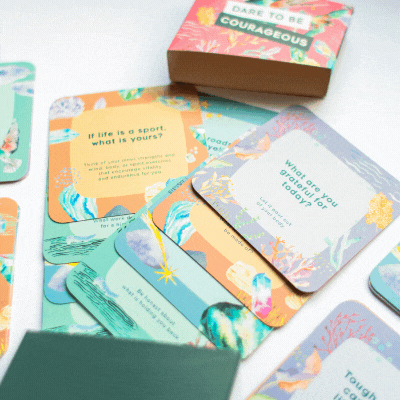 FEATURES:


DARE TO BE GRATEFUL: pull a card and spend a moment thinking about what you are grateful for. And if you have time, write it down -- this is the easiest way to start a journaling habit, and this is the first step in creating a life you love. Thoughts become things, and gratitude creates greater happiness.


DARE TO BE COURAGEOUS: These cards were created with the natural elements in mind to offer simple and grounded inspiration when reflecting on more complex matters of the heart and mind.


DARE TO BE CREATIVE: Each creative task builds courage, as they urge you to take tiny leaps, to help you know yourself better--all you have, and all you believe in.


ENGAGING: The entire deck can be used in an order according to your manner of choosing or shuffled for random guidance. When you pull from your truest self, you share that meaning in everything you create.



SPECIFICATIONS:

56 cards
Card size: 8.9 x 8.9 cm
Thickness: 300gsm
Round corners with matte lamination
For full Specs, please go to SPECIFICATIONS Tab

PACKAGE INCLUDES:

1x Dare to Be Card of your Choice
Let customers speak for us